To what extent can the Extremely Large Telescope's enormous leap in sensitivity and spatial resolution realize an accuracy leap in orbital parameters and physical compositions of critical Near-Earth Objects (NEOs)? "I was very happy when I heard that our project was awarded with the NWA grant," says Dr. G.A. Verdoes Kleijn, Kapteyn Astronomical Institute, Groningen. "This project combines two personal passions as astronomer: research with a societal impact and precision calibration of instruments."
The deliverable of this project is the astrometric and (spectro-)photometric precision obtained for NEOs when observed with the MICADO near-infrared imager and spectrograph at the Extremely Large Telescope of the European Southern Observatory.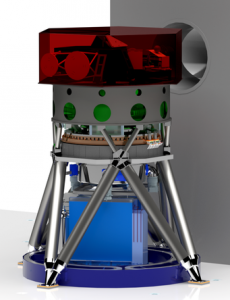 These in turn determine the accuracy of NEO physical composition and orbits. These are relevant three times. For society: collaborator ESA Planetary Defence Office will use it for risk analysis of future asteroid impacts. For science: our collaborating scientists in the Origin Center and the MICADO instrument consortium will use it to constrain models for dynamical evolution of the NEO population, their organic delivery to Earth and the influence of impact processes on life/biodiversity. Lastly, the results are also relevant for future selection of in-situ exploration of NEOs.
This way the project is relevant for the following subprojects of the NWA route: (I) Predicting evolution of life, (II) Building and repairing life – from molecule to ecosystem: can NEOs change the biosphere?
(III) Bridging long temporal and spatial scales: NEOs role in shaping Earth's life from 100 million years ago to 100 years in the future.
This project starts in November 2021 and finishes at September 2022.