Life on earth is organized in communities of interacting species of animals, plants, as well as many different microbial species. Some species engage in a very intimate type of relationship, called symbiosis. Symbiotic interactions are fundamental to the origin of animals and plants and to most aspects of diversity of life on earth. Emergent insights into the relationships between animals and the bacteria, fungi, and viruses that live inside their gut have revealed that these so-called gut microbiomes are a cradle of symbiotic interactions that are critically important to animal ecology and health, including in humans.
"Bacteria and other microbes are everywhere and strongly influence the ecology and evolution of all animals and plants, so it occurred to me that rather than desperately trying to keep microbes out of the experiment, we should embrace them and have them be part of the host's evolutionary experiment," says Thomas Blankers, researcher at the University of Amsterdam. This research project into the gut microbiome of snails and nematode worms provides insights in the role of host-microbiome interactions on the host's evolution on both short time scales (tens of generations) and on much longer timescales (millions of generations). "Evolutionary patterns may strongly differ upon temporal scales. We have to investigate systems both at the short and long term, and with our research we hope to provide more insights into the complexity of host-microbiome interactions on different evolutionary timescales," says Karen Bisschop, researcher at the University of Amsterdam.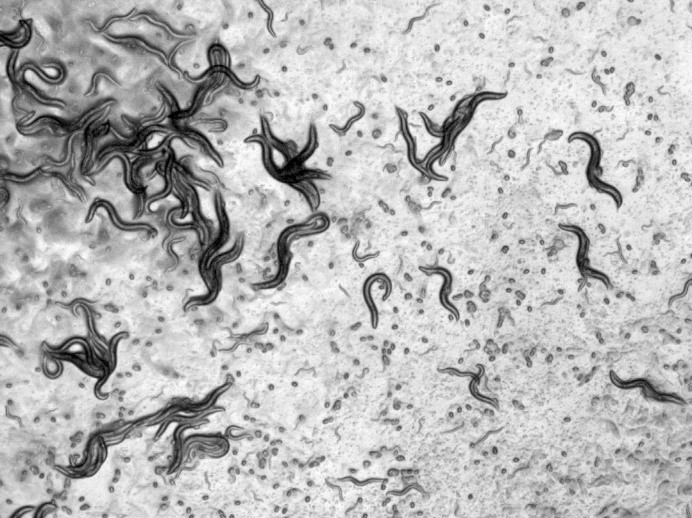 The goal of the project is to investigate how communities of microbial symbionts residing in multicellular hosts evolve in response to evolutionary changes in the host itself. We will set up an evolutionary experiment where populations of nematodes Caenorhabditis elegans can diverge for fifteen generations (micro-evolution) with and without microbial symbionts. We will compare how micro-evolution of the host affects interactions with the symbionts and how the presence of symbionts affects host evolution. We will compare the outcomes of these experiments with available data on field-collected samples of micro snails (mainly Alycaeus jagori, Georissa similis, and Plectostoma concinnum) that are diverged up to 10 million years ago (macro-evolution) (Hendriks, Bisschop, et al., 2020; Hendriks et al., 2019). This comparison allows us to connect the effects incremental genetic changes during adaptation on short evolutionary timescales have on microbial symbiont communities in a replicated, controlled environment with the patterns of host-symbiont co-evolution on much larger timescales in highly complex environments. Comparing among these investigations thus allows to separate ephemeral from permanent effects of host evolution on the evolution of the symbiont communities and provides insight into the contribution of host-microbiome interactions to the diversity of life on Earth.
Primary investigators are Thomas Blankers and Karen Bisschop, fellows of the Origins Center and affiliated with the University of Amsterdam.
This project starts in October 2021 and finishes at the end of December 2021.