The formation of organic molecules on lifeless planets
Tuesday 14 December 2021, 16.00 hours
– Jim Cleaves, Earth Life Science Institute (ELSI)
Join the YouTube stream: https://youtu.be/TsLGQixP9ec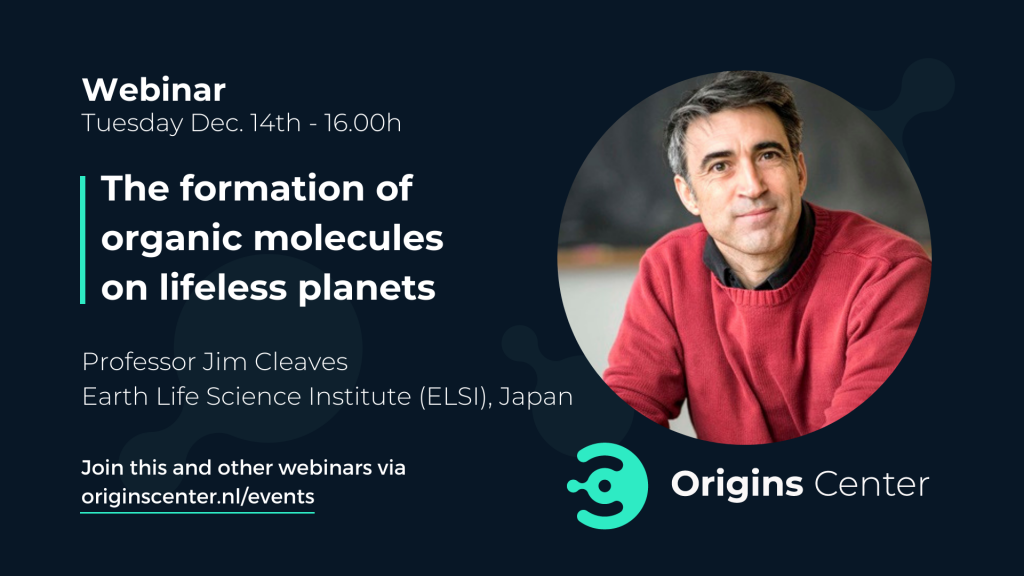 The formation of organic molecules on lifeless planets
Organic compounds are thought to be required for the origin of life. Although considerable progress has been made in understanding how simple organic compounds can be synthesized under simulated early solar system conditions, many questions remain: Which organic compounds are formed? How do these compounds interact with each other and the surrounding environment? How do they self-assemble into living systems? How can organic compounds serve as diagnostics for biological or abiological processes? How do organic compounds decompose in planetary environments?
Open to everyone
Origins Center webinars are streamed via YouTube and are open to everyone. You may ask questions, via chat. The scientific discussions with the "moderator of the day" are only interactively accessible to researchers only via video conferencing software.
Like to view a specific webinar at a more convenient moment? Each webinar is archived on the Origins Center YouTube channel.
Learn more about how the webinars work.