JANUARY 27 & 28, 2021, 9.00 – 17.30 CET
The origin and nature of life, as well as its presence beyond the Earth, are questions that fascinate the general public and inspire scientists from many disciplines. In the Netherlands, research on the emergence of life and evolution is coordinated by the Origins Center. At the conference, a multidisciplinary group of scientists, including geoscientists, evolutionary biologists, ecologists, chemists, physicists, mathematicians, and astronomers will update each other about recent developments in their fields. The goal is to mutually inspire one another and to start exciting new interdisciplinary collaborations. The topics of the meeting are aligned with the main research themes of the Origins Center. They are:
The origin of habitable planets and life
Predicting the evolution of life
Building and steering life
Finding extraterrestrial life
Life as an emergent phenomenon
Download the program in all detail.
Origins 2021 Online Conference: from exoplanets to ecosystems
Conference fee: 25 euro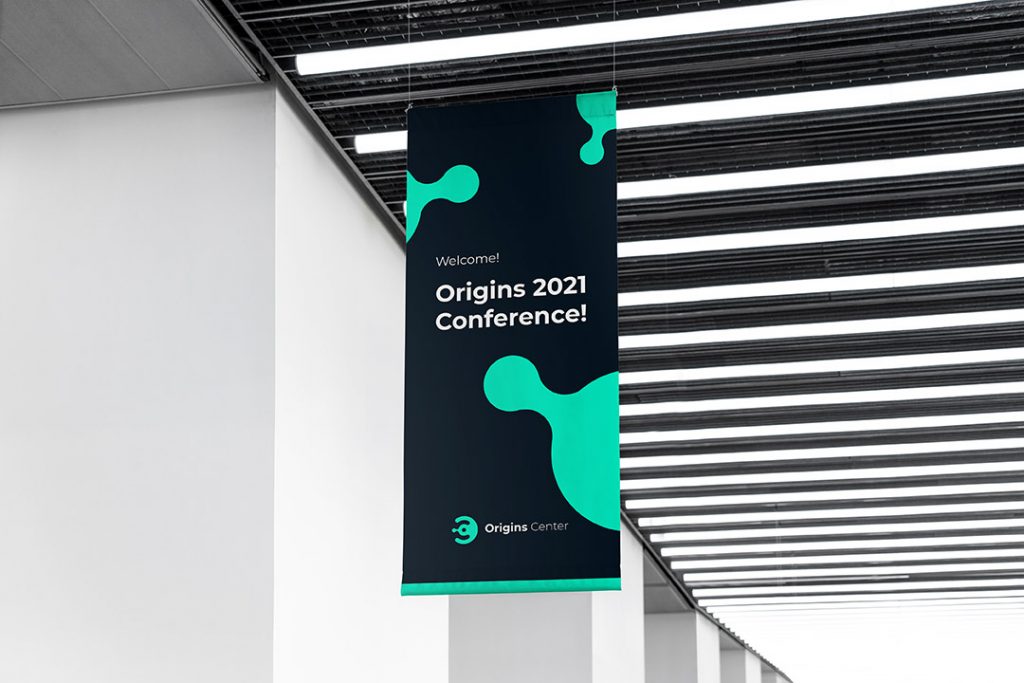 Inspiring one another and starting new collaborations is not obvious in an online environment. Therefore we have designed a programme that allows for ample group and private discussions.
We have invited twelve speakers whose contributions are meant to inspire discussion among the participants. The eight Origins Fellows appointed by the Origins Center will present an overview of their results. In addition we invite you to submit abstracts to present your results in a poster format, accompanied by a prerecorded one minute poster pitch. For the four contributed presentation slots we will select early career scientists based on their abstract to present their results. Our online conference environment offers the streaming of plenary talks, interactive poster sessions, and ample space for informal discussions between individual participants. We will end each day with a scientific speed dating session, where you can meet three scientists for a short introduction. The sessions will start at 9:00 and end at 17:30 CET.
Key note speakers
Ewine van Dishoeck – Leiden Observatory
Nick Lane – University College London
Confirmed invited speakers
Marileen Dogterom – Delft University of Technology
Thijs Ettema – Wageningen University and Research
Emmanuelle Javaux – Université de Liège
Dirk Schulze-Makuch – Technical University Berlin
Alessandro Morbidelli – Observatoire de la Cote d'Azur
Erik van Nimwegen – University of Basel
Paul Rainey – Max Planck Institute Plön
Ignas Snellen – Leiden Observatory
Ricard Solé – Universitat Pompeu Fabra
Nobuto Takeuchi – University of Auckland
Download the program in all detail.
Scientific Organizing Committee
Floris van der Tak (Co-chair) – SRON Netherlands Institute for Space Research
Inge Loes ten Kate (Co-chair) – Utrecht University
Astrid Groot – University of Amsterdam
Dennis Höning – VU University
Inga Kamp – Groningen University
Nathalie Katsonis – University of Twente
Alexander Kros – Leiden University
Liedewij Laan – Delft University of Technology
Joyce Lebbink – Erasmus University Medical Center
Roeland Merks – Leiden University
Bob Planqué – VU University
Kees Storm – Eindhoven University of Technology
Marcel Visser – Nederlands Instituut voor Ecologie (NIOO-KNAW)
Renske Vroomans – University of Amsterdam
Wim van Westrenen – VU University
Receive updates?
Like to learn more about the programme, dates, and topics? Keep in touch with the Origins Center and the Origins 2021 Online Conference by signing up to our Newsletter or make sure to visit our website frequently.