JANUARY 27 & 28, 2021, 9.00 – 17.30 CET
The origin and nature of life, as well as its presence beyond the Earth, are questions that fascinate the general public and inspire scientists from many disciplines. In the Netherlands, research on the emergence of life and evolution is coordinated by the Origins Center. At the conference, a multidisciplinary group of scientists, including geoscientists, evolutionary biologists, ecologists, chemists, physicists, mathematicians, and astronomers will update each other about recent developments in their fields. The goal is to mutually inspire one another and to start exciting new interdisciplinary collaborations. The topics of the meeting are aligned with the main research themes of the Origins Center. They are:
The origin of habitable planets and life
Predicting the evolution of life
Building and steering life
Finding extraterrestrial life
Life as an emergent phenomenon
Download the program in all detail
Origins 2021 Online Conference: from exoplanets to ecosystems
Conference fee: 25 euro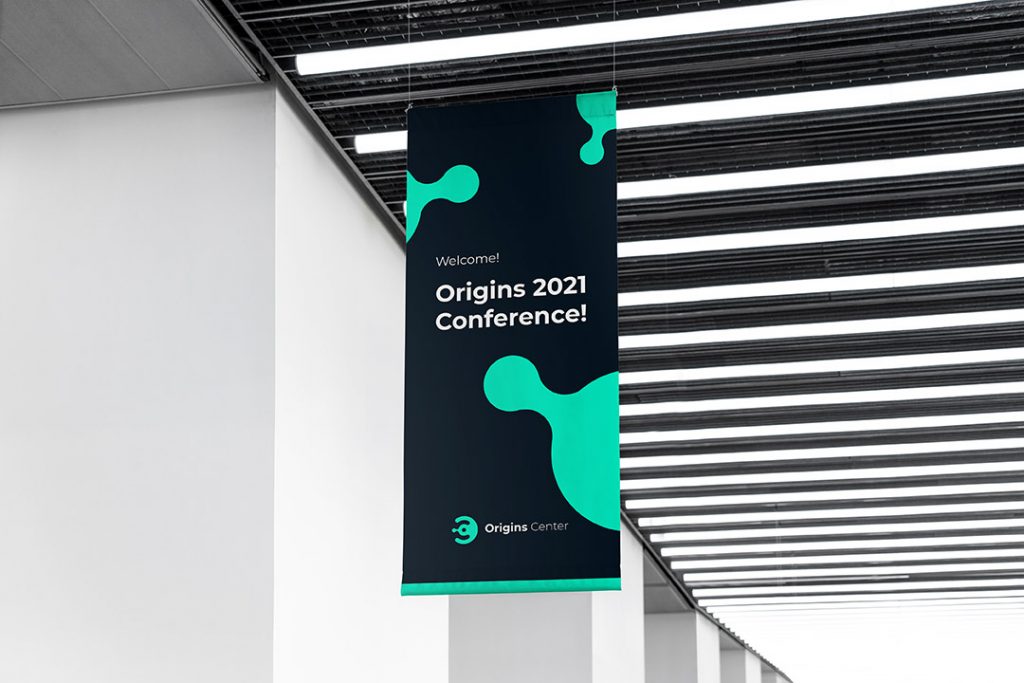 Inspiring one another and starting new collaborations is not obvious in an online environment. Therefore we have designed a programme that allows for ample group and private discussions.
We have invited twelve speakers whose contributions are meant to inspire discussion among the participants. The eight Origins Fellows appointed by the Origins Center will present an overview of their results. In addition we invite you to submit abstracts to present your results in a poster format, accompanied by a prerecorded one minute poster pitch. For the four contributed presentation slots we will select early career scientists based on their abstract to present their results. Our online conference environment offers the streaming of plenary talks, interactive poster sessions, and ample space for informal discussions between individual participants. We will end each day with a scientific speed dating session, where you can meet three scientists for a short introduction. The sessions will start at 9:00 and end at 17:30 CET.
Key note speakers
Ewine van Dishoeck – Leiden Observatory
Nick Lane – University College London
Speakers
Marileen Dogterom – Delft University of Technology
Thijs Ettema – Wageningen University and Research
Emmanuelle Javaux – Université de Liège
Dirk Schulze-Makuch – Technical University Berlin
Alessandro Morbidelli – Observatoire de la Cote d'Azur
Erik van Nimwegen – University of Basel
Paul Rainey – Max Planck Institute Plön
Ignas Snellen – Leiden Observatory
Ricard Solé – Universitat Pompeu Fabra
Nobuto Takeuchi – University of Auckland
Download the program in all detail
Scientific Organizing Committee
Floris van der Tak (Co-chair) – SRON Netherlands Institute for Space Research
Inge Loes ten Kate (Co-chair) – Utrecht University
Astrid Groot – University of Amsterdam
Dennis Höning – VU University
Inga Kamp – Groningen University
Nathalie Katsonis – University of Twente
Alexander Kros – Leiden University
Liedewij Laan – Delft University of Technology
Joyce Lebbink – Erasmus University Medical Center
Roeland Merks – Leiden University
Bob Planqué – VU University
Kees Storm – Eindhoven University of Technology
Marcel Visser – Nederlands Instituut voor Ecologie (NIOO-KNAW)
Renske Vroomans – University of Amsterdam
Wim van Westrenen – VU University
Posters presented
On the role of extraterrestrial organics in the origin of life on Earth
Nina Kopacz
Anticipation in the Search for Biosignatures: a viewpoint
George Profitiliotis
Interstellar prebiotic soup; The building blocks of biomolecules in space
Niels Ligterink
Autocatalysis in Chemical Networks: unifications and extensions
A. Blokhuis, D. Lacostea, P. Ngheb
Lipid Micelle Origin: Evidence From Molecular Dynamics Simulations
Amit Kahana, Zoltan Palmai, Doron Lancet
Meteorites: beneficial or toxic for life on Early Earth?
Annemiek C. Waajen, R. Prescott, Charles S. Cockell
DFT-D4 Investigation of Fullerene and PAHs on (010) Forsterite Surfaces
D. Campisi, T. Lamberts, N.Y. Dzade, R. Martinazzo, I.L. ten Kate , A.G.G.M.Tielens
Geochemical conditions in hydrothermal vents to promote synthesis of biomolecules
Delfina Pereira, Andrey do N. Vieira, Martina Preiner, William F. Martin
The prebiotic conditions of post-AGB planetary systems
Dewy Peters, Floris van der Tak
Evolutionarily Successful Primordial Self-replicating Heteropolymers Were High-skew Palindromic Sequences
Hemachander Subramanian
From disks to planets: A multitude of pathways
Inga Kamp, Nader Haghighipour, Rens Waters, Michiel Min, David Jorge,
Christian Rab, Aaron Greenwood
Life Like; a rare vision on planet earth
Jos van Oijen
The origin of genes in pieces: tracing the spread of introns during eukaryogensis
Julian Vosseberg, Michelle Schinkel, Sjoerd Gremmen, Berend Snel
Preparing a novel space instrument for biomolecule identification on extraterrestrial worlds
Loraine Schwander
RNA-protein interactions in molecular life and health: a computational approach
Mark Driver and Patrick Onck
The ambivalent role of water at the origins of life
Andrey do Nascimento Vieira, Karl Kleinermanns, William F. Martin, Martina Preiner
In Vitro Selections with RNAs of Variable Length Converge on a Robust Catalytic Core
Milena Popovic, Alexander Ellingson, Theresa Chu, Chenyu Wei, Andrew Pohorille, Mark A. Ditzler
Supersized ribosomal RNA expansion segments in Asgard archaea
Petar I. Penev, Sara Fakhretaha-Aval, Vaishnavi J. Patel, Jamie J. Cannone, Robin R. Gutell, Anton S. Petrov, Loren Dean Williams, Jennifer B. Glass
Large random molecules synthesized in interstellar ice grains as micro-environments for prebiotic chemistry
Saibal Mitra
Role of hydrogen cyanide on hydrothermal scenarios: Implications in chemical evolution
Saúl A. Villafañe-Barajas, María Colín-García, Marta Ruiz Bermejo, Pedro Rayo Pizarroso
Fractionation of life-essential volatiles during planetary accretion
Sebastiaan Krijt, Tim Lichtenberg
A simple approach for the detection of microorganisms on Martian soil simulants
Yongda Li, David Collins, Konstantinos Grintzalis