New research funded by the National Science Agenda
Growth forms the heart of living cells. About 1,000 chemical reactions take place in a cell – this is what we also refer to as metabolism. Nutrients are converted into energy or building blocks for growth. The research groups of Matthias Heinemann, Siewert-Jan Marrink, Bert Poolman, Dirk-Jan Slotboom, Marco Fraaije, Kasia Tych and Danny Incarnato in Groningen have together received almost two million euros in funding from NWO for research into the limitations of growth. In the coming years, Heinemann and his colleagues will try to discover why exactly metabolism cannot go any faster.
Heinemann is passionate about fundamental research – research in which curiosity plays a greater role than matters such as applicability. Nevertheless, for this application he has also found partners from industry who are willing to co-finance. They are convinced that the results of this research can mean a lot to the biotechnology industry.
"There seems to be a maximum rate for the chemical reactions in cells. We have formulated a three-stage hypothesis to investigate this," says Heinemann. "Firstly, certain enzymes might get spatially displaced by the Gibbs energy released during the reaction. Secondly, this displacement might lead to a more intense agitation of the cell's contents – more intense compared to the standard Brownian motion. Finally, these displacements and agitation might lead to detrimental changes in bio-molecular functions. The idea is that these three steps set the limit for cell metabolism and growth. This touches the very foundations of how life works."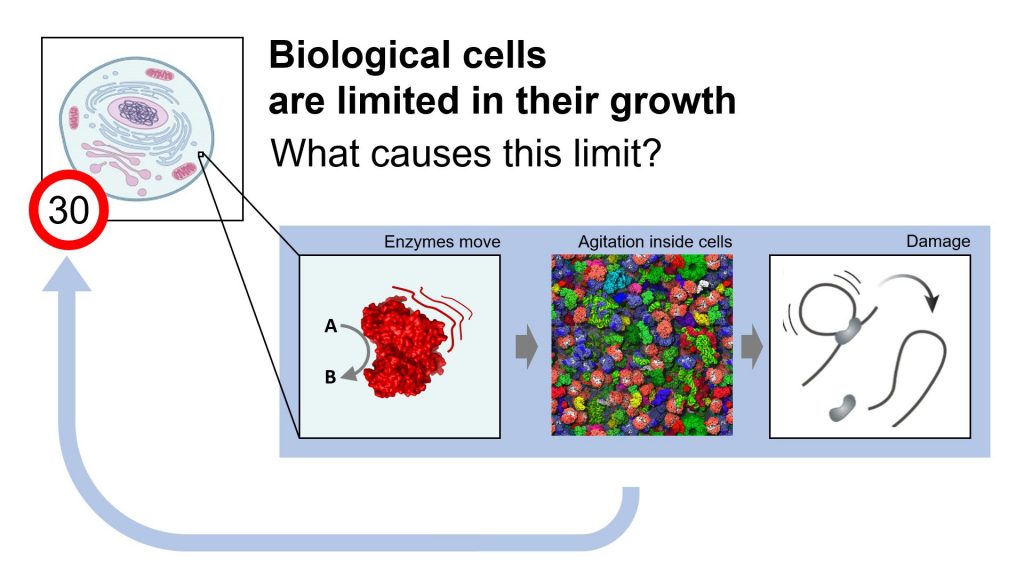 Faster than the maximum speed
If researchers can indeed show that this hypothesis is correct, then they have found what sets an upper limit on the speed of metabolic reactions in a cell. And ideas can be developed to speed up metabolism. This would potentially be very valuable for the biotechnology industry. This industry produces all kinds of substances using biological processes – by using living cells. These can be substances for medicines and food, but also fuels or other useful chemicals.
If metabolism could perhaps be stimulated, these production processes could be made faster, cheaper and more sustainable. Before we get to that point, years will have passed, Heinemann thinks. This research is an important first step in that direction.
Beer and soy sauce
For more than a year, the researchers have been thinking together with the Utrecht School of the Arts (HKU) about how to make the public curious about their research. The researchers feel that simply sharing the results of their research with the public is not enough. Together with the HKU, they devised a way to involve the general public intensively and to make them more interested in the benefits of the research. What fascinates the public? And how can people have full-fledged conversations with researchers and ask them questions? "We finally found a appetising way in which it is possible to really get people involved," says Heinemann.
The researchers will engage the general public with using the products of beer and soy sauce as a vehicle. Fermentation is used in brewing beer and also soy sauce. Heinemann: "We think that the metabolism in micro-organisms that makes it possible to brew beer or soy sauce is a direct result of what we are trying to investigate. We are going to work with brew enthusiasts and beer lovers. And I think you can find them in all walks of life."
The Origins Center wishes Matthias Heinemann, Siewert-Jan Marrink, Bert Poolman, Dirk-Jan Slotboom, Marco Fraaije, Kasia Tych and Danny Incarnato lots of success with their unique research project and the public project they are going to set up together with the HKU. Cheers!
Follow the progress of the whole team through the Origins Center website and newsletters.