DNA, the hereditary code, is the basis of everything that lives. Knowledge in this field is growing by leaps and bounds – but unfortunately it is not easily accessible to non-biologists. This Dutch book changes all that. Using numerous examples, author Ken Kraaijeveld takes the reader into the wonderful world of DNA, from modifying agricultural crops to changing genes to cure diseases.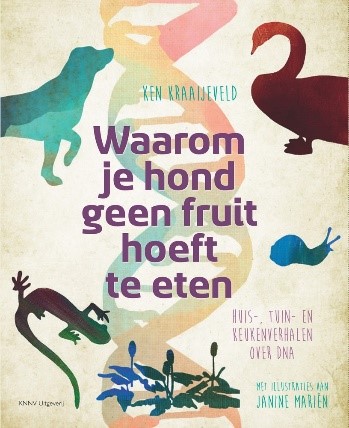 "Knowing more about DNA enriches your view of life"
Why will your dog never get scurvy? Even if he or she never eats fruit. This is because dogs have a vitamin C gene. Cats, mice and rats also have this gene. So they do not need to eat fruit. We humans have that gene too. However, ours is broken…

'Why your dog doesn't need to eat fruit – stories about DNA': the examples in this book show that DNA research influences many aspects of our lives, often without us realising it. As a critical consumer or patient, you might need some help. This richly illustrated book is the ideal guide. The book is only available in Dutch.
DNA basics: what is it, what does it do, how can you use it?
Everything about DNA in our daily lives, from farming to hospitals
The possibilities of DNA research: promises and controversies
Ken Kraaijveld (1972) is a biologist, birdwatcher and nature lover. He used to be research fellow for the Origins Center. Ken used to be a research fellow of the Origins Center. He has spent many hours in laboratories studying the DNA of birds, insects and other organisms. Ken is an ambassador for the LeveDNA!