Inzicht in ontstaan van leven, in samenspel met de omgeving, is een van de belangrijkste wetenschappelijke ontwikkelingen van de laatste 200 jaar. Het vervolg daarop is het voorspellen van evolutionaire processen. Evolutiebiologie gaat een belangrijke rol spelen bij het oplossen van enkele van de grote uitdagingen waarmee we vandaag de dag worden geconfronteerd. De ontwikkeling van bacteriële resistentie, resistentie tegen pesticiden, uitbreken van nieuwe ziekten, en de aanpassing van soorten aan de verstedelijking en klimaatsverandering. Het zal ook eenvoudiger worden biodiversiteit te bevorderen.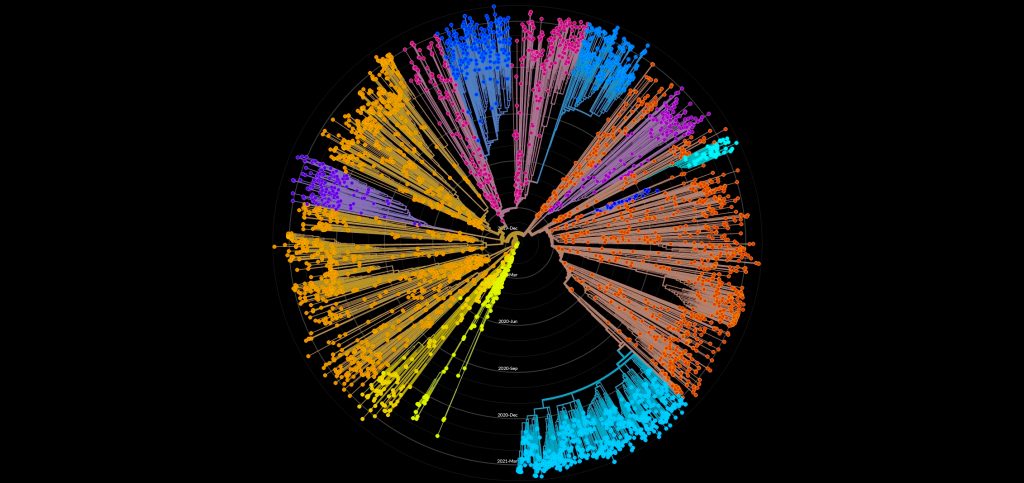 Onderzoekers werken aan twee voorwaarden om evolutie te voorspellen.
1. Onderzoekers moeten inzicht krijgen welke processen precies plaatsvinden tijdens evolutie, op verschillende niveaus van hiërarchie en schaal. Dat betekent dat evolutie van een soort afhankelijk is van andere soorten in dezelfde voedselketen en hetzelfde ecosysteem. Maar ook van (bio)moleculen tot cellen, van organismen tot ecosystemen tot de hele biosfeer van onze planeet. De echte doorbraak zal bestaan uit het voorspellen van de evolutie van de huidige soorten die zich de komende jaren aanpassen aan hun veranderende omgeving. Doe je met ons mee?
2. Ook brengen onderzoekers goed in kaart welke veranderingen we op onze planeet verwachten. Als we goed inzicht hebben in veranderingen van het klimaat, het landschap en de oceanen, is het mogelijk te voorspellen welke effecten dit zal hebben op de evolutie van dieren en planten op aarde.
Sluit je aan bij deze netwerkgroep
Als subgroep organiseren we een reeks workshops voor de Nederlandse evolutiegemeenschap. Het doel van deze workshopserie is om elkaar technieken en "talen" te leren die in verschillende subvelden van de evolutie worden gebruikt, om toekomstige samenwerkingsverbanden te faciliteren.
De opzet is als volgt: twee sprekers geven een 15-20 minuten durende (online) lezing over een specifiek onderwerp. Na de lezingen zijn er 45 minuten voor vragen/discussies of om bijvoorbeeld aan een kleine opdracht te werken.
Het is goed om te weten dat dit educatieve lezingen zijn in plaats van seminars met de nieuwste en coolste resultaten.
PS: Wij stellen suggesties voor onderwerpen/sprekers zeer op prijs.
Wanneer: Derde dinsdag van de maand om 16:00 uur.
Waar: op Zoom
Wie: Voor iedereen die zich deel voelt van de Nederlandse Evolutie gemeenschap en die wil leren! (Doctoraten / Post-Docs / Staf)
Hoe? Schrijf je hier in voor de lezingen of voor de mailinglijst. Een dag voor de workshop ontvangt u een e-mail met een Zoom-link en een wachtwoord.
Contact: Bregje Wertheim of Liedewij Laan.
Programma
Tuesday February 16th
What do we talk about if we talk about protein networks?
Werner Daalman and Bas Teusink
Abstract Werner Karl-Gustav Daalman, post-doc Laan Lab, Dept. Bionanoscience, TU Delft, the Netherlands
Functions inside cells are performed by networks of interacting proteins. The networks can be very complex, but a good description of these is nevertheless required for understanding emergence of function and the potential to evolve. Talking about network often involves terms as modularity, redundancy and hierarchy, which can be defined in various manners. I present definitions that are both intuitive and practically useful, as continuously illustrated by applications to a model network, budding yeast polarity. Finally, I will show how terms concerning network architecture are a matter of perspective, and that choosing the right perspective may bring quantitative predictions on phenotypes and evolution within reach for the network of your interest.
Abstract Bas Teusink, professor Systems Bioinformatics, TU Delft, the Netherlands
Metabolism is the basis of life: its enzymes create networks through which chemical flows provide the energy, chemicals and building blocks that make cells and organisms grow and divide, do work, or communicate with each other. For long metabolism was seen as the boring enabler of the more interesting biology, such as signaling, gene regulation or cell differentiation, but in fact -especially for unicellular organisms- it is quite the opposite. Regulatory mechanisms are there to orchestrate and serve processes with a purpose, and that purpose, of course, is fitness; For unicellular organisms, a large determinant of fitness is specific growth rate. And for growth, metabolism is what you need. A corollary of this is that the outcome of all the regulation has a purpose, to tune metabolic processes for optimal growth. Hence, the outcome of regulation, the metabolic network fluxes, may be predicted through growth rate optimization. This is the basis for constrained-based metabolic models and Flux Balance Analysis, a technique that allows accurate genotype-to-phenotype maps for microbes.
In my tutorial talk I will give examples of the power of the approach. In the workshop, we will together analyze a toy model with Flux Balance Analysis, the techniques that we also use for genome-scale metabolic models, to illustrate how it works, and what its limitations are.
Dinsdag 16 maart

Tuesday March 16th
Cell-based models: ecology, evolution and development
Enrico Sandro Colizzi (LU) and Renske Vroomans (UvA)
Abstract Sandro Colizzi (LU)
The cell is the unit of biology — a little machine capable of self-replication. Much of the complexity of biology plays out in the interactions between multiple cells. For instance, the interactions between microbes determine their ecology. During embryonic development, thousands of cells interact to generate multicellular organisms. These interactions produce emergent behaviour, where collectives of cells can perform functions that single cells cannot. These emergent functions can be selected by evolution. Therefore, we need good and flexible models of cells to understand this complexity. We will present recent and "classical" results in cell-based modelling in ecology, evolution and development.
Abstract Renske Vroomans (UvA)
A widespread and flexible cell model is the Cellular Potts Model – which has been used for almost 30 years. It is particularly suitable for studying emergent behaviours in cell populations, because it allows for an intuitive implementation of cell-level behaviour, such as cell migration, division and adhesion. Moreover, it is straightforward to add intracellular processes such as cytoskeletal dynamics, gene expression, etc. and for integration into an evolutionary framework. In the workshop, we will give an overview of the model, with emphasis on adapting the formalism to different uses.